$
20
.99
$33.99
Save $13.00
6 Pack Clear Disposable Charger Plates With Gold Reef Rim, 12" Round Scalloped Plastic Serving Plates
SKU: CHRG_PLST0044_12_CLGD
Free Shipping $49.00 to get Free Shipping
Free Shipping for Orders $49+ in the contiguous 48 US States. (Excludes AK, HI, US Territories, APO/FPO, International Countries)
Please enter your address in checkout for special shipping rate, UPS does not deliver to PO Box.
Quantity: 6 Charger Plates
Material: Plastic
Color: Clear | Gold
Style: Scalloped Reef Rim
Outer Diameter: 12"
Inner Diameter: 7"
Depth: 0.75"
Shape: Round
Information
Clear Gold Plastic Charger Plates
Unveil a pinnacle of elegance with our Clear Gold Reef Rim Plastic Wedding Charger Plates, redefining the art of table decor. These exquisite chargers effortlessly harmonize the transparent allure of sophistication with the opulence of gold, creating memorable dining experiences. Crafted with meticulous attention to detail, each charger plate embodies timeless design, boasting a clear center that offers a peek at the table settings below and a scalloped gold reef rim that infuses a touch of luxury into your presentation.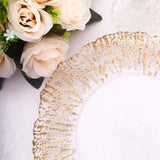 Clear Gold Disposable Serving Plates
Elevate your dining experience with the artistic refinement of our Clear Gold Reef Rim Plastic Charger Plates. These chargers transcend mere utility, serving as the crowning jewel that transforms every meal into a visual feast. The clear center serves as an elegant stage for your tablecloth or placemats, while the ornate gold reef rim introduces a captivating tactile dimension that enchants both the eye and the hand. Whether it's a grand wedding celebration or an intimate gathering, these disposable charger plates seamlessly complement your table setting, simplifying the post-event cleanup.
Clear Round Scalloped Gold Reef Rim Plates
Infuse your gatherings with the allure of timeless design and the radiance of gold through our Clear Gold Reef Rim Charger Plates. These chargers epitomize the seamless fusion of aesthetics and functionality, offering a canvas for your culinary creations that's as captivating as it is practical. The scalloped gold reef rim, coupled with the clear center, collaborates to craft an ambiance of pure opulence. Whether you're hosting a grand gala or an intimate dinner, these charger plates assume a central role, instantly transforming your table into a realm of elegance and style that etches an indelible mark on your guests' hearts.
Additional Information:
Sale is for Charger Plates only, other decorative accessories are not included.
Easy to wash simply wash under hot rinsing water.
WARNING: These plates are not microwave or dishwasher-friendly.
Uses: Perfect for wedding receptions, banquets, graduation parties, and other formal catered events