$
22
.99
$36.99
Save $14.00
6 Pack | 13" Gold Hollow Flower Acrylic Charger Plates, Floral Cutout Decorative Plastic Serving Plates
SKU: CHRG_PLST0034_GOLD
Free Shipping $49.00 to get Free Shipping
Free Shipping for Orders $49+ in the contiguous 48 US States. (Excludes AK, HI, US Territories, APO/FPO, International Countries)
Please enter your address in checkout for special shipping rate, UPS does not deliver to PO Box.
Quantity: 6 Charger Plates
Material: Plastic
Color: Gold
Style: Hollow Flower Cutout
Outer Diameter: 13"
Inner Diameter: 6.5"
Depth: 0.5"
Shape: Round
Information
Gold Hollow Flower Acrylic Charger Plates.
Step into a realm of unparalleled elegance and enchantment as you indulge in the awe-inspiring beauty of our Gold Hollow Flower Acrylic Charger Plates. Inspired by the delicate splendor of nature's blooms, these plates weave an intricate design that effortlessly transforms any dining experience into a captivating affair. Meticulously crafted with impeccable attention to detail, each charger plate mesmerizes with its hollow flower pattern, radiating sophistication and grace. The resplendent gold hue adds a touch of opulence, elevating your table settings to uncharted heights of splendor.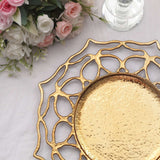 Floral Cutout Plastic Charger Plates
Prepare to dazzle and amaze with our decorative plastic serving plates, thoughtfully designed to leave a lasting impression on any occasion or gathering. With their vibrant gold tone and ornate detailing, these plates effortlessly claim the spotlight. Crafted from high-quality plastic, they flawlessly merge durability with beauty, making them equally suitable for both indoor and outdoor use. Whether it's an extravagant dinner party or a laid-back brunch, these serving plates effortlessly blend style and convenience, leaving your guests in awe and admiration.
Gold Decorative Disposable Serving Plates
Unleash your creative flair and elevate your hosting prowess with our Gold Hollow Flower Acrylic Charger Plates. These disposable serving trays are a true embodiment of artistic brilliance, transcending mere decoration. As the glistening gold hue dances in the light, the intricate hollow flower design infuses your table settings with whimsy and charm. Expertly sized to accommodate your cherished dinnerware, these charger plates lay a luxurious foundation for every course. Prepare to embark on a gastronomic journey like no other, where the seamless fusion of beauty and functionality creates indelible moments of joy and splendor.
Additional Information:
Sale is for Charger Plates only, other decorative accessories are not included.
Easy to wash simply wash under hot rinsing water.
WARNING: These plates are not microwave or dishwasher friendly.
Uses: Perfect for wedding receptions, banquets, graduation parties, and other formal catered events