$
22
.99
$36.99
Save $14.00
6 Pack | 13" Gold Molten Branch Acrylic Charger Plates, Decorative Plastic Hollow Lace Serving Plates
SKU: CHRG_PLST0033_GOLD
Free Shipping $49.00 to get Free Shipping
Free Shipping for Orders $49+ in the contiguous 48 US States. (Excludes AK, HI, US Territories, APO/FPO, International Countries)
Please enter your address in checkout for special shipping rate, UPS does not deliver to PO Box.
Quantity: 6 Charger Plates
Material: Hard Plastic
Color: Gold
Style: Molten Branch
Outer Diameter: 13"
Inner Diameter: 6.5"
Depth: 0.5"
Shape: Round
Information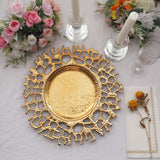 Gold Decorative Acrylic Charger Plates
Introducing our stunning Decorative Gold Lace Charger Plates, designed to elevate your dining experience to new heights. Immerse yourself in a world of elegance and sophistication as you indulge in the seamless blend of intricate lace patterns and a gleaming gold finish. Whether you're hosting a grand soirée, a lavish wedding reception, or simply enjoying a luxurious dinner at home, these plates effortlessly transform any table into a mesmerizing work of art. The delicate lacework exudes femininity and grace, while the opulent gold accents radiate refinement and opulence. Make a statement that will leave your guests in awe with our exquisite Gold Lace Charger Plates.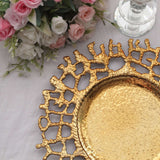 Gold Plastic Hollow Lace Serving Plates
Take your serving game to the next level with our contemporary and practical Molten Branch Plastic Serving Trays. These trays perfectly fuse functionality with aesthetics, enhancing your hosting experience in every way. Crafted with premium quality plastic, they offer both durability and lightweight convenience, without compromising on elegance. The captivating molten branch design adds a touch of natural charm to your table setting, creating a mesmerizing visual effect. Whether you're hosting a casual brunch, a sophisticated cocktail party, or a joyful family gathering, these serving trays effortlessly elevate your presentation. With their versatile nature and eye-catching appeal, the Molten Branch Plastic Serving Trays are an essential addition to your entertaining arsenal.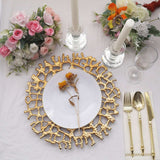 Gold Molten Branch Charger Plates
Infuse your dining experience with glamour and sophistication with our exquisite Gold Charger Plates. Meticulously crafted to enhance any table setting, these statement pieces are a perfect blend of form and function. The intricately woven lace patterns create an atmosphere of elegance and charm, making them captivating centerpieces for any occasion. The lavish gold finish adds a luxurious touch, reflecting light and casting a warm, radiant glow. Whether you're hosting a formal dinner party or a romantic candlelit dinner for two, these charger plates are sure to leave a lasting impression. Elevate your dining experience with the enchanting beauty of our Decorative Gold Charger Plates.
Additional Information:
Sale is for Charger Plates only, other decorative accessories are not included.
Easy to wash simply wash under hot rinsing water.
WARNING: These plates are not microwave or dishwasher friendly.
Uses: Perfect for wedding receptions, banquets, graduation parties, and other formal catered events