34"x7" | 5 Pack
$
8
.99
$13.99
Save $5.00
5 Pack Light Blue Curly Willow Chiffon Satin Chair Sashes
SKU: SASH_STN03_BLUE
Free Shipping $49.00 to get Free Shipping
Free Shipping for Orders $49+ in the contiguous 48 US States. (Excludes AK, HI, US Territories, APO/FPO, International Countries)
Please enter your address in checkout for special shipping rate, UPS does not deliver to PO Box.
Quantity: 5 Chair Sashes (10 strands make 1 Sash)
Material: Chiffon | Satin
Color: Light Blue
Style: Curly Willow
Overall Size: 34" Long x 7"Wide
Total Strands: 50
Easily tie on any chair type
Note: Listing is for Curly Willow Strands Only. Other accessories not included.
Information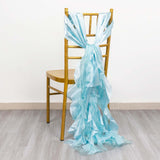 Light Blue Curly Willow Chair Sashes
Unveil a world of captivating elegance with our Blue Curly Willow Chiffon Satin Chair Sashes, a testament to the artistry of event decor. These sashes are more than embellishments; they're strokes of beauty that transform every chair into a canvas of enchantment. Imagine a sea of chairs adorned with these exquisite sashes, each whispering tales of oceanic grace and tranquility. The delicate dance of lustrous satin and intricate blue curly willow detailing creates an ambiance that's as captivating as a calm sea under a moonlit night.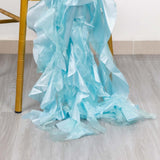 Light Blue Chiffon Satin Chair Sashes
Crafted with meticulous attention, each chair sash is a masterpiece of design and craftsmanship. The serene blue hue invokes a sense of harmony, making it a perfect addition to beach weddings, garden soirées, and everything in between. As the satin elegantly drapes over the chair backs, it invites your guests to revel in the soft touch of luxury, creating an atmosphere that fosters connections and shared moments. Whether it's an intimate gathering or a lavish celebration, our Blue Curly Willow Satin Chiffon Chair Sashes are the embodiment of elegance that adds a touch of poetry to your event.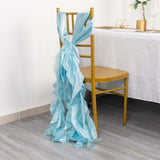 Whimsical Spiral Design Chair Sashes
Step into a world where every detail tells a story, and every chair becomes a piece of art. The Blue Curly Willow Satin Chiffon Chair Sashes go beyond decor; they're an invitation to experience the beauty of the ocean's embrace and the serenity of a tranquil horizon. Let the interplay of light and texture captivate your guests, sparking conversations and memories against a backdrop of refined charm. Elevate your event into a symphony of blue hues, where each chair is a note in the melody of your occasion, creating an ambiance that resonates with the heart and soul.
Additional Information:
How to Care: Hand wash in cold water, gently squeeze out any excess water and lay it flat to dry.

Sashes are shipped in a folded, compressed form. In order to achieve full, fluffy look, you must use your fingers to comb through the strands of  Curly Willow material.

Uses: Wedding, Party, Event, Banquet, Decoration