$
24
.99
$39.99
Save $15.00
54"x10 Yards Beige Accordion Crinkle Taffeta Fabric Bolt
SKU: FAB_ACRNK_5410_081
Free Shipping $49.00 to get Free Shipping
Free Shipping for Orders $49+ in the contiguous 48 US States. (Excludes AK, HI, US Territories, APO/FPO, International Countries)
Please enter your address in checkout for special shipping rate, UPS does not deliver to PO Box.
Quantity: 1 Fabric Bolt
Material: Accordion Crinkle Taffeta
Color: Beige
Width: 54" Wide
Length: 10 Yards
Features: High quality, soft sheen, smooth yet textured surface, lightweight.
Perfect for draping tables, ceilings, walls and DIY projects.
Information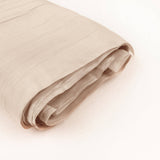 Beige Accordion Crinkle Taffeta Fabric Bolt
Unveil the understated beauty of elegance with our Beige Accordion Crinkle Taffeta Fabric Bolt, where simplicity becomes a masterpiece and subtlety tells a captivating story. Imagine the soft whisper of the finest taffeta as it gracefully drapes, inviting you to explore the world of texture and touch. This isn't just a fabric bolt; it's a journey into the realm of refined charm, where every fold and crinkle holds the promise of transformation.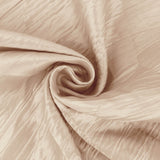 Beige Taffeta Fabric
In a world often filled with bold hues and extravagant patterns, the Beige Accordion Crinkle Taffeta Fabric Bolt stands as a serene oasis of style. The beige tones evoke a sense of timelessness, a canvas for your creative aspirations to flourish. Whether you're crafting a serene table setting, designing sophisticated fashion pieces, or adding a touch of grace to your décor, this fabric is your partner in elevating aesthetics to an art form.
Beige Wholesale Fabric By Yard
Step into a space where the subtle allure of beige mingles with the textural magic of crinkles. This fabric isn't just an accessory; it's a tool that empowers your imagination. As you transform it into creations that reflect your unique vision, let the Beige Accordion Crinkle Taffeta Fabric Bolt guide you through a world where beauty whispers and elegance is found in every delicate fold.
Additional Information:
Uses: Decorate Arches, Backdrops, Gowns, Headdress, Costumes, DIY Crafts, Photography Decorations, Curtains, Runners. Great for Receptions, Cushion Covers, Bridal and Baby Showers, Quinceaneras, Anniversary Parties, Catered Events, Banquet, Hotel, Restaurants and any Home use.