$
24
.99
$39.99
Save $15.00
54"x10 Yards Fuchsia Accordion Crinkle Taffeta Fabric Bolt
SKU: FAB_ACRNK_5410_FUSH
Free Shipping $49.00 to get Free Shipping
Free Shipping for Orders $49+ in the contiguous 48 US States. (Excludes AK, HI, US Territories, APO/FPO, International Countries)
Please enter your address in checkout for special shipping rate, UPS does not deliver to PO Box.
Quantity: 1 Fabric Bolt
Material: Accordion Crinkle Taffeta
Color: Fuchsia
Width: 54" Wide
Length: 10 Yards
Features: High quality, soft sheen, smooth yet textured surface, lightweight.
Perfect for draping tables, ceilings, walls and DIY projects.
Information
Fuchsia Accordion Crinkle Taffeta Fabric Bolt
Ignite your creative passion with our Fuchsia Accordion Crinkle Taffeta Fabric Bolt – a vivid symphony of color and texture that promises to take your artistic endeavors to new heights! This isn't just a material; it's a testament to the extraordinary beauty that can emerge when craftsmanship and creativity intertwine.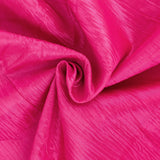 Fuchsia Taffeta Fabric
At the heart of this fabric lies a dance of contrasts. The vibrant fuchsia hue captures attention, while the accordion-style crinkle pattern adds a delightful touch of dynamic elegance. As your fingers explore its surface, you'll feel the interplay between the smooth expanse and the playful crinkles, igniting a tactile sensation that mirrors the spark of inspiration. It's more than a fabric – it's an experience waiting to unfold.
Fuchsia Wholesale Fabric By Yard
Whether you're a trend-setting designer breathing life into haute couture dresses, an event planner dreaming up immersive decor, or a passionate DIY enthusiast ready to craft one-of-a-kind pieces, this Fuchsia Accordion Crinkle Taffeta Fabric Bolt is your ultimate companion. Let it flow into your visions, draping tables with panache, shaping dream-like dresses, or transforming spaces into vibrant landscapes. With this fabric, your creations won't just speak; they'll sing a symphony of color, texture, and boundless imagination.
Additional Information:
Uses: Decorate Arches, Backdrops, Gowns, Headdress, Costumes, DIY Crafts, Photography Decorations, Curtains, Runners. Great for Receptions, Cushion Covers, Bridal and Baby Showers, Quinceaneras, Anniversary Parties, Catered Events, Banquet, Hotel, Restaurants and any Home use.