$
24
.99
$39.99
Save $15.00
54"x10 Yards Black Accordion Crinkle Taffeta Fabric Bolt
SKU: FAB_ACRNK_5410_BLK
Free Shipping $49.00 to get Free Shipping
Free Shipping for Orders $49+ in the contiguous 48 US States. (Excludes AK, HI, US Territories, APO/FPO, International Countries)
Please enter your address in checkout for special shipping rate, UPS does not deliver to PO Box.
Quantity: 1 Fabric Bolt
Material: Accordion Crinkle Taffeta
Color: Black
Width: 54" Wide
Length: 10 Yards
Features: High quality, soft sheen, smooth yet textured surface, lightweight.
Perfect for draping tables, ceilings, walls and DIY projects.
Information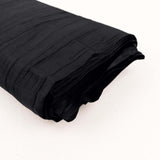 Black Accordion Crinkle Taffeta Fabric Bolt
Step into the realm of sophistication and mystery with our Black Accordion Crinkle Taffeta Fabric Bolt. This fabric isn't just a bolt; it's a voyage into the heart of darkness, where elegance meets intrigue in a dance of texture and shade. Imagine a moonlit garden veiled in the depths of night, and you'll capture the essence of this fabric's enchanting allure. Like a raven's feathers, the deep black hue beckons you to explore its possibilities and turn your event decor into a symphony of drama and allure.
Black Taffeta Fabric
Elevate your event decor with the Black Accordion Crinkle Taffeta Fabric Bolt, enveloping tables in an aura of enigmatic charm. As a tablecloth, this fabric drapes with an otherworldly elegance, evoking the sense of candlelit dinners and clandestine gatherings. The distinctive crinkled texture plays with light, creating a dynamic interplay of shadows that infuses your event with an air of mystique. Create captivating chair bows or sashes, each fold echoing the fabric's tactile poetry, and invite your guests to experience a night of elegance shrouded in darkness.
Black Wholesale Fabric By Yard
Unleash your creativity by designing dramatic backdrops using the Black Accordion Crinkle Taffeta Fabric Bolt. Whether it's a masquerade ball, a theatrical performance, or a gala, this fabric transforms spaces into immersive realms of intrigue. Picture the fabric draping from ceiling to floor, an obsidian cascade that captures the imagination. Enhance the enchantment by intertwining delicate string lights through the fabric, conjuring a starlit sky indoors and adding a touch of glamour to your event decor.
Additional Information:
Uses: Decorate Arches, Backdrops, Gowns, Headdress, Costumes, DIY Crafts, Photography Decorations, Curtains, Runners. Great for Receptions, Cushion Covers, Bridal and Baby Showers, Quinceaneras, Anniversary Parties, Catered Events, Banquet, Hotel, Restaurants and any Home use.