$
24
.99
$39.99
Save $15.00
54"x10 Yards Dusty Rose Accordion Crinkle Taffeta Fabric Bolt
SKU: FAB_ACRNK_5410_080
Free Shipping $49.00 to get Free Shipping
Free Shipping for Orders $49+ in the contiguous 48 US States. (Excludes AK, HI, US Territories, APO/FPO, International Countries)
Please enter your address in checkout for special shipping rate, UPS does not deliver to PO Box.
Quantity: 1 Fabric Bolt
Material: Accordion Crinkle Taffeta
Color: Dusty Rose
Width: 54" Wide
Length: 10 Yards
Features: High quality, soft sheen, smooth yet textured surface, lightweight.
Perfect for draping tables, ceilings, walls and DIY projects.
Information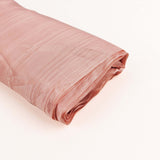 Dusty Rose Accordion Crinkle Taffeta Fabric Bolt
Step into a world where elegance meets texture with our Dusty Rose Accordion Crinkle Taffeta Fabric Bolt. Like a whisper of romance frozen in time, this fabric carries the allure of the past while being woven for the present. The journey begins with the delicate touch of dusty rose, a color that transcends trends, embodying both subtlety and vibrancy. As the eyes dance across its accordion-like folds, the crinkle texture beckons curiosity, creating an ever-changing play of light and shadow. This fabric isn't just a material; it's a narrative waiting to unfold, an invitation to craft moments of sheer beauty.
Dusty Rose Taffeta Fabric
Unleash your creativity and immerse yourself in a world of possibilities with this versatile fabric roll. Elevate your event decor like never before as you drape tables with the gentle waves of the Dusty Rose Accordion Crinkle Taffeta. Imagine it cascading down tables at weddings, catching the glint of candlelight, and lending an air of sophistication to the ambiance. For an ethereal touch, fashion dreamlike curtains that sway in the breeze, creating an enchanting backdrop for photography or framing the vows at an outdoor ceremony. Craft soft, flowing chair sashes to add an understated yet striking element that ties the decor together. Whether you're designing an intimate soirée or a grand gala, this fabric is your artistic partner, breathing life into your vision and leaving an indelible mark on the memories you create.
Dusty Rose Wholesale Fabric By Yard
Let your imagination take flight with this fabric bolt. Fashion captivating room dividers that define spaces while maintaining an open feel or craft elegant, pleated fabric chandeliers that capture attention from above. Embrace its tactile allure by wrapping it around bouquets and centerpieces, infusing a touch of sophistication into the smallest details. The Dusty Rose Accordion Crinkle Taffeta Fabric Bolt isn't just for events; it's a catalyst for ingenuity, a fabric that adapts to your artistic whims. As you unravel its story, watch it weave seamlessly into your creative tapestry, leaving an impression that lingers long after the lights have dimmed.
Additional Information:
Uses: Decorate Arches, Backdrops, Gowns, Headdress, Costumes, DIY Crafts, Photography Decorations, Curtains, Runners. Great for Receptions, Cushion Covers, Bridal and Baby Showers, Quinceaneras, Anniversary Parties, Catered Events, Banquet, Hotel, Restaurants and any Home use.