$
24
.99
$39.99
Save $15.00
(0)
54"x10 Yards White Accordion Crinkle Taffeta Fabric Bolt
SKU: FAB_ACRNK_5410_WHT
Free Shipping $49.00 to get Free Shipping
Free Shipping for Orders $49+ in the contiguous 48 US States. (Excludes AK, HI, US Territories, APO/FPO, International Countries)
Please enter your address in checkout for special shipping rate, UPS does not deliver to PO Box.
Quantity: 1 Fabric Bolt
Material: Accordion Crinkle Taffeta
Color: White
Width: 54" Wide
Length: 10 Yards
Features: High quality, soft sheen, smooth yet textured surface, lightweight.
Perfect for draping tables, ceilings, walls and DIY projects.
Information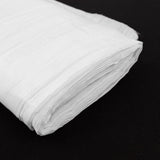 White Accordion Crinkle Taffeta Fabric Bolt
Unveil the embodiment of timeless beauty with our White Accordion Crinkle Taffeta Fabric Bolt. As if spun from clouds and moonlight, this fabric possesses a quality that transcends mere material – it's a whispered promise of elegance, a canvas for your imagination to paint upon. Imagine the gentle play of light on the delicate folds, resembling a symphony of emotions in visual form. From the very beginning, this fabric beckons you to infuse your events with a touch of ethereal charm, crafting moments that will be treasured for a lifetime.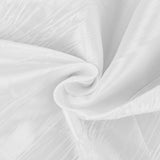 White Taffeta Fabric
Transform your event decor into a realm of enchantment with the versatile White Accordion Crinkle Taffeta. At weddings, let it cascade gracefully as table runners, adding a layer of sophistication to banquet tables. For intimate celebrations, drape it like curtains, enveloping spaces in an aura of purity and tranquility. Craft bows and sashes to adorn chairs, evoking a sense of regal grace, or fashion it into stunning backdrop panels that capture the essence of your event's narrative. This fabric isn't just a roll of cloth; it's a vessel for your dreams.
White Wholesale Fabric By Yard
From fairytale weddings to upscale galas, the White Accordion Crinkle Taffeta Fabric Bolt offers a myriad of possibilities. Adorn ceilings with its flowing elegance to create an otherworldly atmosphere, or fashion it into delicate swags that play with light and shadow. Imagine delicate drapes swaying in the breeze, transforming any setting into a haven of serenity. Illuminate it with soft, warm lights to infuse your event with an intimate glow, or wrap it around pillars for a touch of majestic grandeur. Let your creativity unfurl alongside the graceful folds of this fabric, as it weaves tales of enchantment into the tapestry of your event.
Additional Information:
Uses: Decorate Arches, Backdrops, Gowns, Headdress, Costumes, DIY Crafts, Photography Decorations, Curtains, Runners. Great for Receptions, Cushion Covers, Bridal and Baby Showers, Quinceaneras, Anniversary Parties, Catered Events, Banquet, Hotel, Restaurants and any Home use.