$
24
.99
$39.99
Save $15.00
54"x10 Yards Violet Amethyst Accordion Crinkle Taffeta Fabric Bolt
SKU: FAB_ACRNK_5410_073
Free Shipping $49.00 to get Free Shipping
Free Shipping for Orders $49+ in the contiguous 48 US States. (Excludes AK, HI, US Territories, APO/FPO, International Countries)
Please enter your address in checkout for special shipping rate, UPS does not deliver to PO Box.
Quantity: 1 Fabric Bolt
Material: Accordion Crinkle Taffeta
Color: Violet Amethyst
Width: 54" Wide
Length: 10 Yards
Features: High quality, soft sheen, smooth yet textured surface, lightweight.
Perfect for draping tables, ceilings, walls and DIY projects.
Information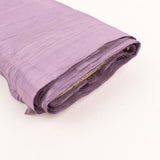 Violet Amethyst Accordion Crinkle Taffeta Fabric Bolt
Embark on a journey through the enchanting world of fabrics with our Violet Amethyst Accordion Crinkle Taffeta Fabric Bolt. Like discovering a hidden gem in a sun-dappled forest, this fabric beckons you to explore its depths and uncover the treasures of creativity it holds. With the regal charm of amethyst and the whimsical allure of crinkles, this fabric is more than just a material – it's a portal to a realm where imagination knows no bounds.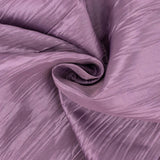 Violet Amethyst Taffeta Fabric
Drape, design, and dazzle with the elegance of amethyst-hued dreams. The Violet Amethyst Accordion Crinkle Taffeta Fabric Roll weaves a tale of royalty and artistry, inviting you to shape it into tablecloths that whisper sophistication, garments that exude elegance, and décor that leaves an indelible impression. Each fold tells a story of craftsmanship, meticulously designed to bring texture to life, creating an interplay of light and shadow that captures the essence of luxury.
Violet Amethyst Wholesale Fabric By Yard
Elevate your artistic endeavors with the touch of violet amethyst, a color symbolizing creativity and spiritual growth. Whether you're planning an opulent event or adding a touch of luxury to your designs, this fabric bolt sets the stage for your imagination to unfurl. Let the Violet Amethyst Accordion Crinkle Taffeta Fabric Bolt be your companion in crafting unforgettable moments and turning your artistic visions into reality, where the journey of creation is as captivating as the final masterpiece.
Additional Information:
Uses: Decorate Arches, Backdrops, Gowns, Headdress, Costumes, DIY Crafts, Photography Decorations, Curtains, Runners. Great for Receptions, Cushion Covers, Bridal and Baby Showers, Quinceaneras, Anniversary Parties, Catered Events, Banquet, Hotel, Restaurants and any Home use.