$
24
.99
$39.99
Save $15.00
(1)
54"x10 Yards Peacock Teal Accordion Crinkle Taffeta Fabric Bolt
SKU: FAB_ACRNK_5410_TEAL
Free Shipping $49.00 to get Free Shipping
Free Shipping for Orders $49+ in the contiguous 48 US States. (Excludes AK, HI, US Territories, APO/FPO, International Countries)
Please enter your address in checkout for special shipping rate, UPS does not deliver to PO Box.
Quantity: 1 Fabric Bolt
Material: Accordion Crinkle Taffeta
Color: Peacock Teal
Width: 54" Wide
Length: 10 Yards
Features: High quality, soft sheen, smooth yet textured surface, lightweight.
Perfect for draping tables, ceilings, walls and DIY projects.
Information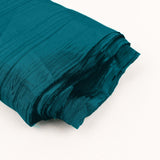 Peacock Teal Accordion Crinkle Taffeta Fabric Bolt
Unveil the captivating allure of the Peacock Teal Accordion Crinkle Taffeta Fabric Bolt – a masterpiece that brings a touch of enchantment to your creative endeavors. Imagine a fabric that dances with light, playing hide-and-seek with shades of teal, reminiscent of a peacock's graceful stride. This fabric is not just a bolt of material; it's a portal to a world where texture and color intertwine in a mesmerizing embrace. Whether you're a seasoned event planner or a DIY enthusiast, this fabric invites you to infuse your projects with an aura of elegance and intrigue.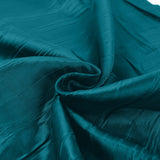 Peacock Teal Taffeta Fabric
Transform any event into a realm of sophistication with the Peacock Teal Accordion Crinkle Taffeta Fabric Bolt. Draping tables with this fabric instantly conjures an atmosphere of opulence at weddings, galas, or upscale dinner parties. The texture plays with light in fascinating ways, creating depth and dimension that captivate the eye. For a truly enchanting touch, fashion luxurious chair sashes or bows, allowing the fabric's unique crinkled texture to exude charm and charisma.
Peacock Teal Wholesale Fabric By Yard
Let your creativity take flight by using this fabric roll to craft stunning backdrops. Whether it's a stage for a theatrical performance, a photoshoot, or a corporate event, the intricate teal crinkles offer an elegant backdrop that effortlessly commands attention. For a touch of artistic flair, experiment with weaving fairy lights through the fabric, turning any space into a magical wonderland of shimmering teal. And don't forget draping – imagine swathes of this fabric suspended from ceilings, transforming ordinary spaces into ethereal realms that leave a lasting impression on all who enter.
Additional Information:
Uses: Decorate Arches, Backdrops, Gowns, Headdress, Costumes, DIY Crafts, Photography Decorations, Curtains, Runners. Great for Receptions, Cushion Covers, Bridal and Baby Showers, Quinceaneras, Anniversary Parties, Catered Events, Banquet, Hotel, Restaurants and any Home use.