$
24
.99
$39.99
Save $15.00
(0)
54"x10 Yards Burgundy Accordion Crinkle Taffeta Fabric Bolt
SKU: FAB_ACRNK_5410_BURG
Free Shipping $49.00 to get Free Shipping
Free Shipping for Orders $49+ in the contiguous 48 US States. (Excludes AK, HI, US Territories, APO/FPO, International Countries)
Please enter your address in checkout for special shipping rate, UPS does not deliver to PO Box.
Quantity: 1 Fabric Bolt
Material: Accordion Crinkle Taffeta
Color: Burgundy
Width: 54" Wide
Length: 10 Yards
Features: High quality, soft sheen, smooth yet textured surface, lightweight.
Perfect for draping tables, ceilings, walls and DIY projects.
Information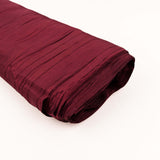 Burgundy Accordion Crinkle Taffeta Fabric Bolt
Unveil an enchanting world of elegance with our Burgundy Accordion Crinkle Taffeta Fabric Bolt! This fabric isn't just a material; it's a symphony of texture and color that transforms the ordinary into the extraordinary. Imagine cascading waves of deep burgundy, reminiscent of the finest wines, now captured in fabric form. The artistry lies in its accordion-style crinkle pattern, which adds dimension and playfulness to your creations.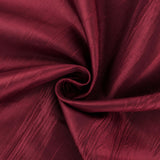 Burgundy Taffeta Fabric
Crafted with meticulous attention to detail, this fabric isn't just about looks – it's a tactile experience. Run your fingers across its surface and feel the delightful interplay between smooth sections and mesmerizing crinkles. It's a texture that whispers stories of opulent gatherings, swaying dances, and memorable moments. Whether you're a seasoned designer creating stunning garments, an imaginative decorator shaping lavish event spaces, or a crafting enthusiast embarking on unique DIY projects, this fabric lends itself to your creativity like a muse.
Burgundy Wholesale Fabric By Yard
Drape tables with an air of sophistication at weddings fashion luxurious evening gowns that steal the spotlight, or design statement accessories that speak volumes about your impeccable taste with our Burgundy Accordion Crinkle Taffeta Fabric Bolt. It's a versatile medium through which you can express your artistic vision. Elevate your projects with the luxurious touch and rich depth of burgundy, and let this fabric be the brushstroke that paints your ideas into reality.
Additional Information:
Uses: Decorate Arches, Backdrops, Gowns, Headdress, Costumes, DIY Crafts, Photography Decorations, Curtains, Runners. Great for Receptions, Cushion Covers, Bridal and Baby Showers, Quinceaneras, Anniversary Parties, Catered Events, Banquet, Hotel, Restaurants and any Home use.