$
24
.99
$39.99
Save $15.00
54"x10 Yards Gold Accordion Crinkle Taffeta Fabric Bolt
SKU: FAB_ACRNK_5410_GOLD
Free Shipping $49.00 to get Free Shipping
Free Shipping for Orders $49+ in the contiguous 48 US States. (Excludes AK, HI, US Territories, APO/FPO, International Countries)
Please enter your address in checkout for special shipping rate, UPS does not deliver to PO Box.
Quantity: 1 Fabric Bolt
Material: Accordion Crinkle Taffeta
Color: Gold
Width: 54" Wide
Length: 10 Yards
Features: High quality, soft sheen, smooth yet textured surface, lightweight.
Perfect for draping tables, ceilings, walls and DIY projects.
Information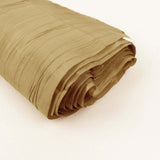 Gold Accordion Crinkle Taffeta Fabric Bolt
Step into a world where elegance meets extravagance with our mesmerizing Gold Accordion Crinkle Taffeta Fabric Bolt. This fabric isn't just a bolt of cloth; it's a stroke of artistry, a cascade of luxury, and a dance of radiance all rolled into one. Imagine the way it shimmers and shifts as it catches the light, resembling the undulating notes of an accordion. With every fold, every wrinkle, this fabric tells a story of opulence and celebration, beckoning you to craft unforgettable moments.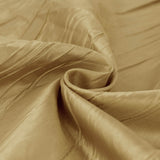 Gold Taffeta Fabric
This fabric isn't limited to a singular purpose; it's a versatile tool for creating stunning event décor that leaves a lasting impression. For grand affairs like weddings, drape this gold accordion crinkle taffeta to fashion luxurious table runners that cascade over the edges, instantly transforming banquet tables into gilded masterpieces. Create ethereal curtains that divide spaces while allowing a golden glow to permeate through, giving a touch of exclusivity to corporate events. Craft sashes and bows to accentuate chairs, or mold it into captivating backdrop designs, evoking the sensation of being enveloped in a golden embrace. Whatever your vision, this fabric is the brush with which you paint your event's narrative.
Gold Wholesale Fabric By Yard
With its textured richness, the Gold Accordion Crinkle Taffeta Fabric Bolt is your invitation to explore boundless creativity. Adorn pillars and arches to infuse a sense of regality into ceremonies, or fashion it into captivating ceiling swags for a dreamlike ambiance at receptions. Wrap it around stair railings for a touch of splendor or use it as a base to spotlight centerpieces, making them appear as if they're emerging from a golden sea. This fabric transcends the ordinary, providing you with a versatile medium to craft extraordinary experiences. Ignite your imagination, and let the golden crinkles of this fabric weave the story of opulence and enchantment at your next event.
Additional Information:
Uses: Decorate Arches, Backdrops, Gowns, Headdress, Costumes, DIY Crafts, Photography Decorations, Curtains, Runners. Great for Receptions, Cushion Covers, Bridal and Baby Showers, Quinceaneras, Anniversary Parties, Catered Events, Banquet, Hotel, Restaurants and any Home use.