$
24
.99
$39.99
Save $15.00
54"x10 Yards Sage Green Accordion Crinkle Taffeta Fabric Bolt
SKU: FAB_ACRNK_5410_SAGE
Free Shipping $49.00 to get Free Shipping
Free Shipping for Orders $49+ in the contiguous 48 US States. (Excludes AK, HI, US Territories, APO/FPO, International Countries)
Please enter your address in checkout for special shipping rate, UPS does not deliver to PO Box.
Quantity: 1 Fabric Bolt
Material: Accordion Crinkle Taffeta
Color: Sage Green
Width: 54" Wide
Length: 10 Yards
Features: High quality, soft sheen, smooth yet textured surface, lightweight.
Perfect for draping tables, ceilings, walls and DIY projects.
Information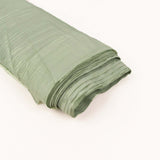 Sage Green Accordion Crinkle Taffeta Fabric Bolt
Discover the epitome of serene elegance with our Sage Green Accordion Crinkle Taffeta Fabric Bolt. Like a breath of fresh air in a bustling world, this fabric carries the soothing essence of nature's verdant embrace. Its delicate folds and ethereal texture create a symphony of visual delight, reminiscent of sun-dappled leaves swaying in a gentle breeze. As you unfurl this bolt, you unveil not just a material, but a journey into tranquility – an invitation to transform your events into an oasis of calm sophistication.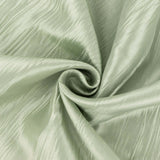 Sage Green Taffeta Fabric
Unleash your imagination and elevate your event decor to unparalleled heights with the Sage Green Accordion Crinkle Taffeta. Let it cascade like a waterfall of elegance, adorning tables with luxurious table runners that set the tone for a serene gathering. Create intimate corners by draping this fabric as gentle curtains, evoking the feeling of a secret garden tucked away from the world. Craft chair sashes and bows to accentuate seating arrangements, infusing them with the essence of refined simplicity. Whether it's a wedding, a garden party, or an upscale soirée, this fabric becomes the thread that weaves together moments of pure serenity.
Sage Green Wholesale Fabric By Yard
Imagine a celestial haven where light dances with shadow, where the hues of nature converge with the magic of design. The Sage Green Accordion Crinkle Taffeta Fabric Bolt can be transformed into enchanting ceiling swags, elevating your event's ambiance to a whole new level. Adorn archways and pillars to create immersive pathways that invite guests into a world of tranquility. Craft backdrop drapes that capture the essence of a verdant paradise, or let it envelop centerpieces like a soft embrace. Illuminate it with warm lights to create a soft, inviting glow, or fashion it into chair decor that blends seamlessly with the natural beauty of your surroundings. With this fabric, your event becomes a haven of calm where every detail whispers of nature's elegance.
Additional Information:
Uses: Decorate Arches, Backdrops, Gowns, Headdress, Costumes, DIY Crafts, Photography Decorations, Curtains, Runners. Great for Receptions, Cushion Covers, Bridal and Baby Showers, Quinceaneras, Anniversary Parties, Catered Events, Banquet, Hotel, Restaurants and any Home use.