$
24
.99
$39.99
Save $15.00
54"x10 Yards Hunter Emerald Green Accordion Crinkle Taffeta Fabric Bolt
SKU: FAB_ACRNK_5410_HUNT
Free Shipping $49.00 to get Free Shipping
Free Shipping for Orders $49+ in the contiguous 48 US States. (Excludes AK, HI, US Territories, APO/FPO, International Countries)
Please enter your address in checkout for special shipping rate, UPS does not deliver to PO Box.
Quantity: 1 Fabric Bolt
Material: Accordion Crinkle Taffeta
Color: Hunter Emerald Green
Width: 54" Wide
Length: 10 Yards
Features: High quality, soft sheen, smooth yet textured surface, lightweight.
Perfect for draping tables, ceilings, walls and DIY projects.
Information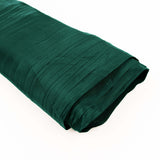 Hunter Emerald Green Accordion Crinkle Taffeta Fabric Bolt
Embark on a journey into the heart of opulence with our Hunter Emerald Green Accordion Crinkle Taffeta Fabric Bolt. Like a hidden glen in a mystical forest, this fabric beckons with its deep and captivating hue, inviting you to immerse yourself in a world of rich elegance. With every fold and crease, it exudes a sense of enigmatic beauty, reminiscent of the lush depths of nature. This fabric isn't just a roll; it's a portal to transform ordinary events into extraordinary experiences, where every touch becomes a connection to the sublime.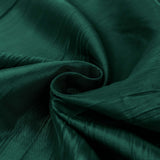 Hunter Emerald Green Taffeta Fabric
Unleash your creativity and elevate your event decor to new heights with the Hunter Emerald Green Accordion Crinkle Taffeta. Grace tables with their luxurious presence as table runners, infusing your settings with a touch of sophistication and grandeur. For those dreaming of garden-inspired celebrations, craft entrancing curtains that billow in the breeze, evoking a sense of being enveloped by nature's embrace. Adorn chairs with bows and sashes, transforming them into regal thrones that blend seamlessly with the lush backdrop. Whether you're hosting a gala or a romantic wedding, this fabric is your key to crafting an atmosphere of unparalleled beauty.
Hunter Emerald Green Wholesale Fabric By Yard
Envision an event where the ceiling drips with elegance, where every gaze is met with cascading waves of green enchantment. The Hunter Emerald Green Accordion Crinkle Taffeta Fabric Bolt can be transformed into captivating ceiling swags that redefine your space's aura. Create stunning archways and pillars that channel the majesty of nature, or fashion it into mesmerizing drapes that dance with the interplay of light and shadow. Wrap this fabric around banisters or spotlight centerpieces, effortlessly transforming your event into a visual masterpiece. With this fabric, your event becomes a canvas where the poetry of nature and the art of design unite in harmony.
Additional Information:
Uses: Decorate Arches, Backdrops, Gowns, Headdress, Costumes, DIY Crafts, Photography Decorations, Curtains, Runners. Great for Receptions, Cushion Covers, Bridal and Baby Showers, Quinceaneras, Anniversary Parties, Catered Events, Banquet, Hotel, Restaurants and any Home use.