$
24
.99
$39.99
Save $15.00
54"x10 Yards Blush Accordion Crinkle Taffeta Fabric Bolt
SKU: FAB_ACRNK_5410_046
Free Shipping $49.00 to get Free Shipping
Free Shipping for Orders $49+ in the contiguous 48 US States. (Excludes AK, HI, US Territories, APO/FPO, International Countries)
Please enter your address in checkout for special shipping rate, UPS does not deliver to PO Box.
Quantity: 1 Fabric Bolt
Material: Accordion Crinkle Taffeta
Color: Blush
Width: 54" Wide
Length: 10 Yards
Features: High quality, soft sheen, smooth yet textured surface, lightweight.
Perfect for draping tables, ceilings, walls and DIY projects.
Information
Blush Accordion Crinkle Taffeta Fabric Bolt
Step into a world where elegance meets texture with our Blush Accordion Crinkle Taffeta Fabric Bolt. Unveil a realm of endless creative possibilities as you run your fingers across the sumptuous folds of this exquisite fabric. Like a gentle dance of light and shadow, the blush hue shimmers with an ethereal glow, casting a spell of sophistication that's perfect for weddings, events, or any occasion where luxury is the order of the day.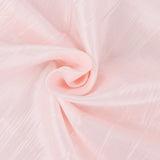 Blush Taffeta Fabric
Crafted to elevate your creative endeavors, this taffeta fabric bolt is more than just a material; it's a masterpiece in the making. Each accordion fold and crinkle detail has been meticulously designed to capture the essence of opulence and refinement. Whether you're draping it as an elegant tablecloth, creating breathtaking apparel, or dreaming up one-of-a-kind decor, the Blush Accordion Crinkle Taffeta Fabric Bolt is your canvas of elegance.
Blush Wholesale Fabric By Yard
Imagine the gasps of awe as your guests enter a space transformed by the sheer magic of this fabric. Its versatility is matched only by its sheer beauty, making it a timeless addition to your artistic toolkit. Let your imagination run wild and let the blush taffeta breathe life into your creative visions. Elevate your creations with a touch of luxury that only this fabric can deliver, and let the unfolding waves of its texture tell a story of elegance that's nothing short of extraordinary.
Additional Information:
Uses: Decorate Arches, Backdrops, Gowns, Headdress, Costumes, DIY Crafts, Photography Decorations, Curtains, Runners. Great for Receptions, Cushion Covers, Bridal and Baby Showers, Quinceaneras, Anniversary Parties, Catered Events, Banquet, Hotel, Restaurants and any Home use.