$
24
.99
$39.99
Save $15.00
54"x10 Yards Purple Accordion Crinkle Taffeta Fabric Bolt
SKU: FAB_ACRNK_5410_PURP
Free Shipping $49.00 to get Free Shipping
Free Shipping for Orders $49+ in the contiguous 48 US States. (Excludes AK, HI, US Territories, APO/FPO, International Countries)
Please enter your address in checkout for special shipping rate, UPS does not deliver to PO Box.
Quantity: 1 Fabric Bolt
Material: Accordion Crinkle Taffeta
Color: Purple
Width: 54" Wide
Length: 10 Yards
Features: High quality, soft sheen, smooth yet textured surface, lightweight.
Perfect for draping tables, ceilings, walls and DIY projects.
Information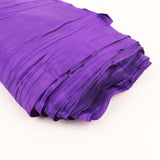 Purple Accordion Crinkle Taffeta Fabric Bolt
Embark on a journey through the enchanting world of creativity with our Purple Accordion Crinkle Taffeta Fabric Bolt – a tapestry of possibilities that begins with the unraveling of this bolt. Imagine the deep hues of twilight and the mysterious allure of the cosmos distilled into a single fabric, ready to grace your artistic endeavors with its mesmerizing charm. This isn't just a fabric; it's an invitation to weave stories through texture and color.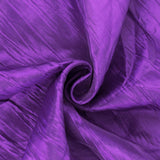 Purple Taffeta Fabric
Unlock a realm of artistic expression as your fingers glide over the intricate accordion-style crinkle pattern, a tactile dance that mirrors the rhythm of your imagination. The regal purple hue demands attention, captivating with its elegance and depth. Each fold and crease tells a tale of meticulous craftsmanship, and as you hold this fabric, you're holding the essence of innovation and possibility.
Purple Wholesale Fabric By Yard
Let your creative spirit soar as you contemplate the myriad ways to use this Purple Accordion Crinkle Taffeta Fabric Bolt. Envision exquisite ball gowns that swirl and shimmer with every step, their folds echoing the fabric's own graceful patterns. Transform event venues into realms of enchantment, draping tables and chairs to create an ambiance that's both luxurious and inviting. Craft clutch purses that become the talk of every gathering, reflecting your unique style and creativity. From fashion to décor to accessories, this fabric is your muse, ready to infuse elegance and artistry into every endeavor.
Additional Information:
Uses: Decorate Arches, Backdrops, Gowns, Headdress, Costumes, DIY Crafts, Photography Decorations, Curtains, Runners. Great for Receptions, Cushion Covers, Bridal and Baby Showers, Quinceaneras, Anniversary Parties, Catered Events, Banquet, Hotel, Restaurants and any Home use.