$
24
.99
$39.99
Save $15.00
54"x10 Yards Navy Blue Accordion Crinkle Taffeta Fabric Bolt
SKU: FAB_ACRNK_5410_NAVY
Free Shipping $49.00 to get Free Shipping
Free Shipping for Orders $49+ in the contiguous 48 US States. (Excludes AK, HI, US Territories, APO/FPO, International Countries)
Please enter your address in checkout for special shipping rate, UPS does not deliver to PO Box.
Quantity: 1 Fabric Bolt
Material: Accordion Crinkle Taffeta
Color: Navy Blue
Width: 54" Wide
Length: 10 Yards
Features: High quality, soft sheen, smooth yet textured surface, lightweight.
Perfect for draping tables, ceilings, walls and DIY projects.
Information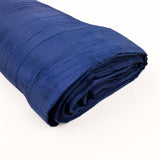 Navy Blue Accordion Crinkle Taffeta Fabric Bolt
Embark on a journey through the depths of elegance with our Navy Blue Accordion Crinkle Taffeta Fabric Bolt. Imagine a moonlit ocean's surface, captured in cloth, as waves of rich navy blue cascade and fold like a perfectly choreographed dance. This fabric isn't just material; it's a testament to the artistry of texture, a symphony of color, and an invitation to craft unforgettable moments. With every twist and turn, it embodies the essence of sophistication, inviting you to transform your events into immersive experiences.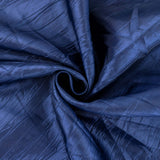 Navy Blue Taffeta Fabric
This fabric holds the power to redefine event décor, breathing life into your creative aspirations. Picture it draped along tables, transforming even the simplest setup into a realm of opulence. Fashion this navy blue accordion crinkle taffeta into luxurious tablecloths that pool onto the floor, exuding an air of grandeur at weddings and galas. For corporate events, utilize it as an awe-inspiring backdrop, mirroring the depth of your brand's narrative. Craft regal curtains that define spaces while adding a touch of intrigue, or design sashes and bows to grace chairs with sophistication. The possibilities are as boundless as your imagination.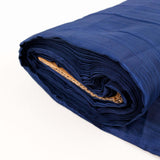 Navy Blue Wholesale Fabric By Yard
From enchanting weddings to corporate soirées, the Navy Blue Accordion Crinkle Taffeta Fabric Bolt lends itself to an array of captivating applications. Adorn gazebos and archways with its elegant folds to create a sense of arrival, or cascade it from the ceiling for a celestial ambiance at galas. Craft cascading drapes that immerse guests in a sea of navy blue or fashion it into alluring swags that play with light and shadow. Elevate centerpieces by draping them with this fabric, invoking a sense of intrigue and wonder. Unleash your creativity, and let the Navy Blue Accordion Crinkle Taffeta Fabric Bolt envelop your events in an aura of refinement and grace.
Additional Information:
Uses: Decorate Arches, Backdrops, Gowns, Headdress, Costumes, DIY Crafts, Photography Decorations, Curtains, Runners. Great for Receptions, Cushion Covers, Bridal and Baby Showers, Quinceaneras, Anniversary Parties, Catered Events, Banquet, Hotel, Restaurants and any Home use.