$
24
.99
$39.99
Save $15.00
54"x10 Yards Red Accordion Crinkle Taffeta Fabric Bolt
SKU: FAB_ACRNK_5410_RED
Free Shipping $49.00 to get Free Shipping
Free Shipping for Orders $49+ in the contiguous 48 US States. (Excludes AK, HI, US Territories, APO/FPO, International Countries)
Please enter your address in checkout for special shipping rate, UPS does not deliver to PO Box.
Quantity: 1 Fabric Bolt
Material: Accordion Crinkle Taffeta
Color: Red
Width: 54" Wide
Length: 10 Yards
Features: High quality, soft sheen, smooth yet textured surface, lightweight.
Perfect for draping tables, ceilings, walls and DIY projects.
Information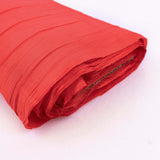 Red Accordion Crinkle Taffeta Fabric Bolt
Ignite your imagination and set your creativity ablaze with our Red Accordion Crinkle Taffeta Fabric Bolt – a masterpiece that encapsulates the very essence of passion and vibrancy. Like a stroke of an artist's brush on a canvas, this fabric holds within its fibers the power to transform ordinary moments into extraordinary memories. Unfurl the bolt and step into a world where texture and color converge in a symphony of artistic expression.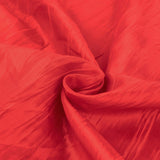 Red Taffeta Fabric
Behold the captivating allure of the deep red hue, reminiscent of the heart's deepest desires. But it's not just the color that mesmerizes – it's the dynamic accordion-style crinkle pattern that invites both touch and sight to dance in harmony. As your fingers trace the fabric's surface, you'll feel the tactile journey of smooth elegance and playful texture, a sensory adventure that beckons the artist in you to emerge.
Red Wholesale Fabric By Yard
Let your creativity run wild and let the Red Accordion Crinkle Taffeta Fabric Bolt be your muse. Craft bold and dramatic evening gowns that command attention, capturing the essence of confidence and allure. Adorn event spaces with cascading drapes that infuse sophistication and drama, setting the stage for unforgettable celebrations. From statement accessories to captivating centerpieces, let the fabric's texture and color elevate every project to new heights of artistic brilliance. With this fabric, you're not just creating; you're painting your world with passion and flair.
Additional Information:
Uses: Decorate Arches, Backdrops, Gowns, Headdress, Costumes, DIY Crafts, Photography Decorations, Curtains, Runners. Great for Receptions, Cushion Covers, Bridal and Baby Showers, Quinceaneras, Anniversary Parties, Catered Events, Banquet, Hotel, Restaurants and any Home use.