$
24
.99
$39.99
Save $15.00
54"x10 Yards Dusty Blue Accordion Crinkle Taffeta Fabric Bolt
SKU: FAB_ACRNK_5410_086
Free Shipping $49.00 to get Free Shipping
Free Shipping for Orders $49+ in the contiguous 48 US States. (Excludes AK, HI, US Territories, APO/FPO, International Countries)
Please enter your address in checkout for special shipping rate, UPS does not deliver to PO Box.
Quantity: 1 Fabric Bolt
Material: Accordion Crinkle Taffeta
Color: Dusty Blue
Width: 54" Wide
Length: 10 Yards
Features: High quality, soft sheen, smooth yet textured surface, lightweight.
Perfect for draping tables, ceilings, walls and DIY projects.
Information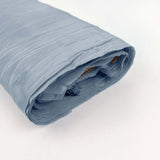 Dusty Blue Accordion Crinkle Taffeta Fabric Bolt
Embark on a journey through the realms of sophistication with our Dusty Blue Accordion Crinkle Taffeta Fabric Bolt. Like a piece of sky captured in textile form, this fabric whispers tales of serenity and elegance. As your fingers graze its surface, you'll be transported to a world where texture dances with light and color evoke tranquility. Imagine draping your visions in the gentle folds of this fabric – it's not just an embellishment; it's an ode to creativity itself, waiting to grace your events with an aura of enchantment.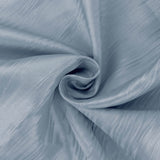 Dusty Blue Taffeta Fabric
Unveil the magic of the Dusty Blue Accordion Crinkle Taffeta in your event decor endeavors. Adorn tables with its cascading waves, an embodiment of refined beauty, as it transforms weddings into poetic celebrations and galas into symphonies of style. Imagine fashioning ethereal curtains that sway with the wind, an invitation to a dreamlike realm for both guests and photographers alike. Craft chair ties that effortlessly combine grace and charm, or let your inventiveness take flight by sculpting it into floral elements that add a touch of elegance to bouquets and centerpieces. From grand ballrooms to intimate garden affairs, this fabric bolt stands ready to turn every occasion into a masterpiece.
Dusty Blue Wholesale Fabric By Yard
The allure of this stunning fabric extends beyond the event space. Picture crafting unique wall tapestries that narrate stories, or sculpting breathtaking backdrops that invite wonder and exploration. The Dusty Blue Accordion Crinkle Taffeta Fabric Bolt is a playground for your imagination, inspiring room dividers that demarcate spaces with a dash of elegance, or even lending itself to the creation of ethereal fashion accessories. In the hands of a creative spirit, this fabric transcends its material form, weaving dreams into reality, and making every touch, every fold, an ode to beauty and craftsmanship.
Additional Information:
Uses: Decorate Arches, Backdrops, Gowns, Headdress, Costumes, DIY Crafts, Photography Decorations, Curtains, Runners. Great for Receptions, Cushion Covers, Bridal and Baby Showers, Quinceaneras, Anniversary Parties, Catered Events, Banquet, Hotel, Restaurants and any Home use.